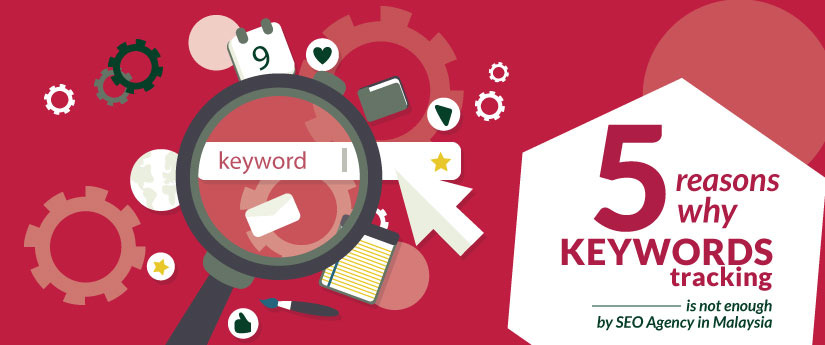 Five reasons why keyword tracking is not enough by SEO Agency in Malaysia
Gone are the days to impress the clients with keyword ranking reports. It was very easy and hassle-free to search the "money making keyword" and create plenty of inbound links, guest posts, directory listings and wait for skyrocketing ranks or traffic.
A few years ago a lot of us were working with the same mentality and now using this strategy will only shut down your business. Based on research and analysis it is clear that keyword ranking is not the measure of success.
New platforms and trends are evolving with the change in the customer's search behaviour. As per experts of SEO agency in Malaysia the search engine optimisation today is more about creating an engaging experience for the users and less about the keyword positions.
The success metrics today involve leads and conversions and to help you better understand this equation read on the reasons why just keyword tracking is not enough for your business by Top SEO agency in Malaysia.
1. You are using the outdated keyword strategy
Just tracking the keyword is not enough if the keyword strategy you are using is outdated and does not appeal to the visitors anymore. So, what made you successful in 2010 may not be applicable in 2018.
What if your competitors are tracking new keywords and phrases? You may be tracking wrong rankings all this long. The convenient approach called the voice search functionality allows the people to speak even 30 words rather than type few keywords.
While you are focusing on the generic keyword, people may demand natural language for quick search. You may track few keywords against specific landing page to see the difference in rankings and how they fluctuate.
2. Keyword rank varies with location
When I am sitting in my house and browsing for popular florists or clinics near to my locality, I get certain results, which vary when I conduct the same search from my office.
So how does this happen? Google tracks your internet searching behaviour and locations to decides what to show you the next time you search for similar keywords.
It means when you are searching from multiple locations about any product or service or organization the rank may very from country to country.
Only if the keyword ranking tools are able to track results from different countries that is associated with your target audience, then it is beneficial to track the keywords.
3. Keyword tracking tools do not work
SERP is turning complex day by day with the changes in the algorithms and ranking parameters. We could not see paid Ads or Google maps or videos on Google first page a few years ago.
Search engines fail to capture the ranking for a specific keyword as the primary source of income is the ads and sponsored results. The keyword tracking tools scrape the results from Google but they are not always entertained.
Google display CAPTCHA to make sure that the keyword ranking information is made by the human and not any tool. It means regular use of keyword tracking tools may lead to ban on IP address by Google.
4. Customisation leads to inaccurate keyword ranks
Keyword tracking tools fail to capture the ranking for a specific keyword because customisation leads to different search results for the single keyword.
Google collects your data and customises the search results to meet your needs better. It may be beneficial for user experience and enhancing the convenience but not for SEO analysis.
Such customisation and personalisation helps you track the information based on the information hold by the search engine at a given time and are not based on traditional ranking factors.
Tracking keyword is not just enough and you must use different SEO tools to get a broader picture of a keyword from other data signals.
5. Not having mobile optimised sites
On further analysis, I could see that the click-through rates are dropping for sites ranking position one organically. However, in cases of mobile-friendly sites - the click-through rates seem to increase due to better organic visibility.
Unlike the desktop searches, the mobile searches are not so convenient for scrolling and viewing the next page. In the case of desktop users, less number of people click on the first few sites listed.
On the contrary, mobile users mostly tend to finish their work on the first page of Google. This is the trick that makes first organic listings receive more clicks in case of mobile searches than the desktop versions.
Wrap up
I hope you now understand that rankings were ruling in the past. This is why tracking keyword is not enough for your business as they do not equal the conversions. But, it is not the end of the game and you can still win the rate race by going an extra mile.
What should you track? They track the change in the algorithm, variation in the potential ways a customer is searching your product or service, leads, conversions, and cost per conversions. The statistics generated by the Google analytics and search console will help you know which SEO metrics are working.
Working with the top SEO company in Malaysia will help you improve the ranks for many businesses. Are you looking for more insights into SEO success? Then contact us today! Share your experience and Goodluck!