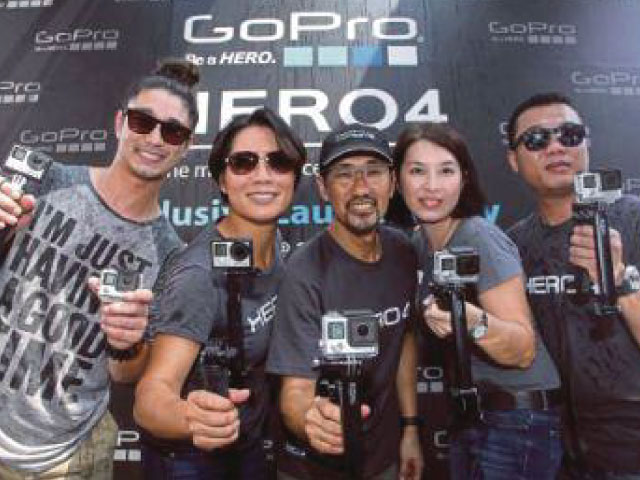 Marina Putrajaya (November 12th, 2014)
Recording memories has never looked better or cooler, with the introduction of GoPro's most powerful lineup of gadgets, ever. In a splashy, fun-filled party, FunSportz Sdn Bhd – the exclusive importer and distributor of GoPro equipment from the USA – proudly brings to Malaysian enthusiasts the latest range, featuring the HERO4 Black and HERO4 Silver editions.
From extreme to mainstream, professional to consumer, GoPro has enabled the world to capture and share its passions. GoPro and HERO are registered trademarks of GoPro Inc. in the USA and other countries. And with GoPro's Emmy Award-winning imaging technology and enhanced ease-of-use features such as 4k30, 2.7K50 and 1080p 120fps video capture, as well as built-in touch display convenience, both are perfect for video/photographers looking for that `little extra' at equally competitive prices.
The GoPro HERO4 Black and HERO4 Silver cameras will certainly appeal to discerning outdoor and nature lovers, videographers and indeed, anyone with an eye for only the highest-quality video-cum-photography equipment. And yes, GoPro cameras have been used by NASA astronauts onboard the International Space Station (ISS) for research purposes.
Founded in Malaysia in 2009 with the aim of bringing quality products relating to outdoor, sports and travel activities to consumers, FunSportz (www.funsportz.com.my) also specializes in gadgets that are both unique and fun.
LINs Communication Sdn Bhd (LINs Comm) congratulates FunSportz Sdn Bhd on the successful launching of the latest GoPro range of equipment, and is proud to be your event management partner of choice!