Condolence messages are offered to the family and close ones of a deceased. They may be published by individuals or on behalf of a company.
Here are some sample condolence messages that you may use as a template.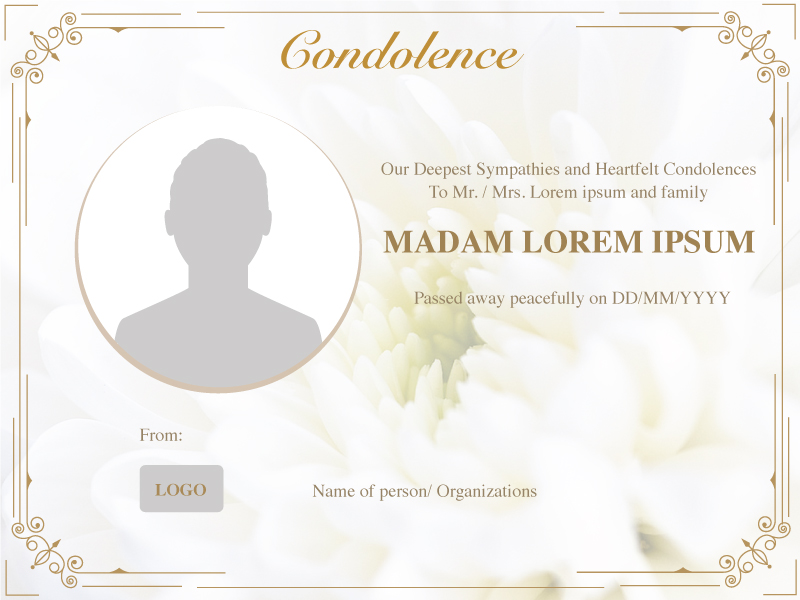 Short & Thoughtful Messages
You and your family are in our hearts and minds. Our condolences on the passing of your _____.
We extend our deepest sympathies to you and your family. May the soul of your _____ be at peace with our Heavenly Father.
We offer you our thoughts, prayers and well-wishes during this hard time in your life.
_____ will be terribly missed. He/She was loved by all of us and will be cherished in our memories forever. Our condolences.
When we lose a loved one here on Earth, we gain an angel in heaven that watches over us. May you take comfort in knowing that you have an angel to watch over you now. We extend our most sincere condolences to you.
Our heartfelt condolences go out to you and your family. I/We will surely miss the presence of a truly loveable and kind person.
We extend to you our most heartfelt sorrow and condolences.
W

e express our sincere sympathy to you and your family. We will include your _____ in our thoughts and prayers.

May our condolences bring you comfort and may our prayers ease the pain of your loss.
Our hearts are filled with sorrow upon hearing the news about your _____'s passing. Our most sincere condolences go out to you and your family.
We are saddened to hear of your sudden loss.
Our hearts are with you in this time of sorrow.
Please accept our heartfelt condolences on the loss of your loved one.
Words can't express how saddened we are to hear of your loss.
Please know that our thoughts and prayers are with you during this tragic time.
Longer & Meaningful Messages
On behalf of _____(company name), we express our deepest condolences on the recent passing of _____. To say _____ , was a big part of our lives would be an understatement. He/She will always be remembered as a great _____. His/Her _____ and _____(good qualities) were only surpassed by his/her_____(another good quality).

As the days and weeks pass, and as you return to life's routine, may you continue to feel comforted by the love and support of family and friends. May your hearts soon be filled with wonderful memories of joyful times together as you celebrate a life well lived.

I pray that the many happy memories of _____'s life with all of you will, with time, overcome the sadness and pain that have accompanied you all as you journeyed these later years with _____. _____ did a lot in the community, but I particularly remember his/her dedication to our church. He/She worked tirelessly and was a good friend to all. I will always remember our happy times in _____. Please be assured of our prayers.

Please accept my sincerest condolences on the loss of your dear _____. I have so many happy memories of spending time with each other when we were growing up. We were very lucky. I know your _____ fought a brave battle. God bless him/her and all of you at this time of sorrow.

Grief can be so hard, but our special memories help us cope. Remembering you and your loved one today and always.

I'm really saddened to hear of your wonderful father's death. He was an extraordinary man. There are many in the community who will mourn deeply with his passing as his was a life of service, love, compassion and excellence. May he rest in peace.

Our condolences to the Family of _____ upon the passing of _____. May you always hold fond memories of his/her life with you.

It was with great sadness that we learned of _____'s passing. Please accept our heartfelt condolences and we hope that in a small way they help through these trying times.
Cherish Ads
Contact us to publish a condolence advertisement