Memoriam advertisements are published on a special day of a loved one who has passed away. Articles, special messages or poems may be written in memory of a person. Usually appropriate on death anniversaries, birthdays or any other special days of the deceased.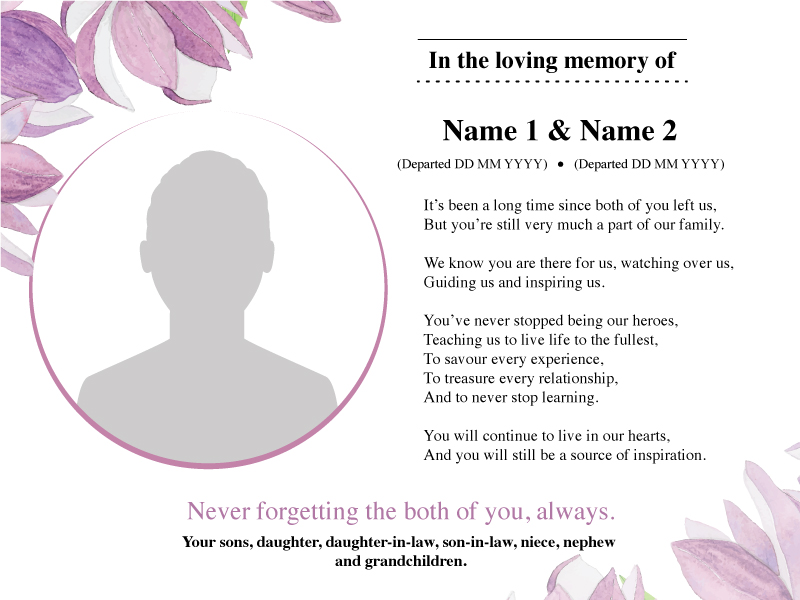 Below are samples of poems to be dedicated to loved ones in memoriam advertisements. They may also be used in memoriam advertisements or other cherish ads.
Loving and kind in all her ways,
Upright and just to the end of her days;
Sincere and true, in her heart and mind,
Beautiful memories, she left behind.

He had a nature you could not help loving
And a heart that was purer than gold
And to those who knew him and loved him
His memory will never grow cold

We who loved you sadly miss you
As it dawns another year
In our lonely hours of thinking
Thoughts of you are always near.

Memory drifts to scenes long past,
Time rolls on, but memories last;
Sunshine passes, shadows fall,
Love's remembrance outlasts all.

The years may wipe out many things,
But this they'll wipe out never,
The memory of those happy days
Which we have spent together,
For all you did for me, you did your best,
May God grant eternal rest.

As we loved you, so we miss you;
In our memory you are near.
Loved, remembered, longed for always,
Bringing many a silent tear.

Not now, but in the coming years,
It may be in the better land,
We'll read the meaning of our tears
And there we'll understand.
Cherish Ads
Contact us to enquire on a memoriam advertisement