Julie's Biscuits has launched their "What's Your Love Letter?" campaign for the third consecutive year with the help of LINs Advertising & Marketing. The brand's mission was to get more people to appreciate their loved ones through writing, reviving the art of letter writing.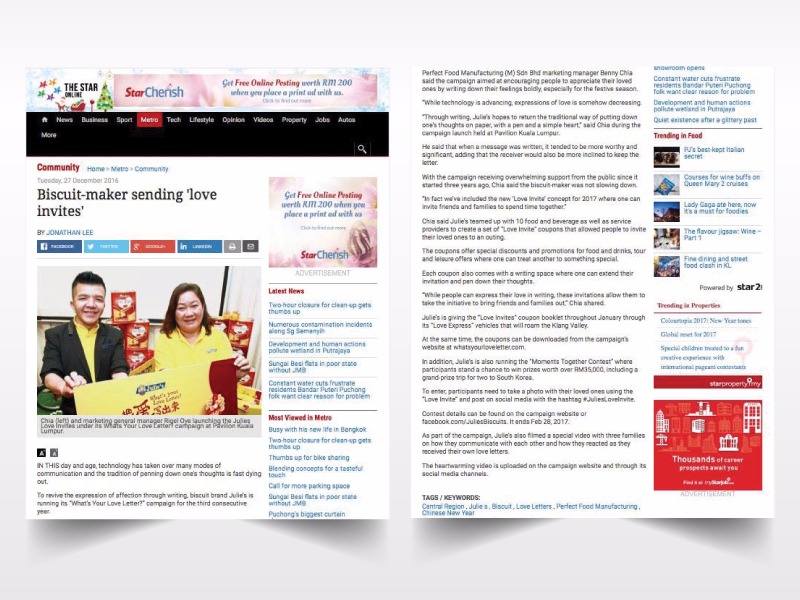 This campaign is in conjunction with the festive season of Chinese New Year, a time where family members get together for bonding.
The 'Love Invite' Concept
Expanding from writing letters, Julie's Biscuits and LINsAD has come up with the concept of 'Love Invite' for 2017 which enables one to invite friends and families to spend time together. Space is allocated for senders to pen down a heartwarming personal message to the receiver.
Numerous notable brands such as Chatime, Secret Recipe, Baskin Robbins and Domino's have also come on board to offer special discounts and promotions for those who would like to treat their friends and families to something special.
The "Love Invite" coupon booklet will be available throughout January through its "Love Express" vehicles that will roam the Klang Valley. Digital copies can also be created and downloaded from whatsyourloveletter.com through the custom application.
Read the news article on The Star.
"What's Your Love Letter?" concept, 'Love Invite' coupon booklet, website, and 'Love Invite' custom application are products of LINsAD.